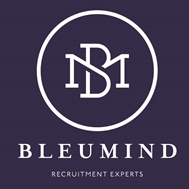 www.bleumind.com
info@bleumind.com
+52 (55) 4744 0459

MEXICO CITY
Calzada Legaria 549  — Torre 1, Piso 4
Col. Polanco, Ciudad de Mexico 11250
+52 (55) 4744 0459
MONTERREY
Av. Gomez Morin 955, Torre Gomez Morin, suite 313
Col. Montebello. San Pedro Garza Garcia, N.L. 66279
+52 (81) 46248561 al 64
GUADALAJARA
Av. Empresarios #135, Torre Skalia, piso 8.
Col. Puerta de Hierro. Guadalajara, Jal. 45116
+52 (33) 4770 0968
MIAMI
2200 N. Commerce Parkway
Suite 200
Weston, Florida 33326
+52 (55) 47440457
Founded in 2009, Bleumind is a highly specialized boutique recruiting firm located in Mexico, with corporate headquarters in Mexico City and offices in Monterrey and Guadalajara. Our clients range from major, world-renowned corporations to medium-sized and fledgling companies.
At Bleumind, our fundamental mission is to create value for our clients by providing them with the specific talent they need for the continuance and success of their businesses.
A search process with a cross-reference methodology and an in-depth knowledge of the industries we serve comprise our distinguishing features. Our network of contacts and professionals who trust our firm and our consultants provides us with access to the talent our clients need. Moreover, our services are governed by a strict code of conduct and values, which are closely linked to what we believe in and who we are.
Apart from our methodology and quality and level of service, our uniqueness is underscored by the empathy with which we implement our processes. We support our clients and candidates throughout each project, providing strategic counsel with the objectivity, integrity and professionalism required by this process, offering a unique service and understanding consistent with the specific situation and setting of the people and organizations we serve.